Don't call it Shoreditch on Sea
Photo: Jeff Kirby of Flint Group and Jess Steele of Jericho Road Solutions.
Hastings is an ever-popular relocation choice for city dwellers in search of a better quality of life. The town's mix of creativity, individuality, history, charm and of course lower property prices, attracts many DFLs (Down From Londons) and is being regularly picked by publications such as The Guardian and Conde Naste as a top destination to visit.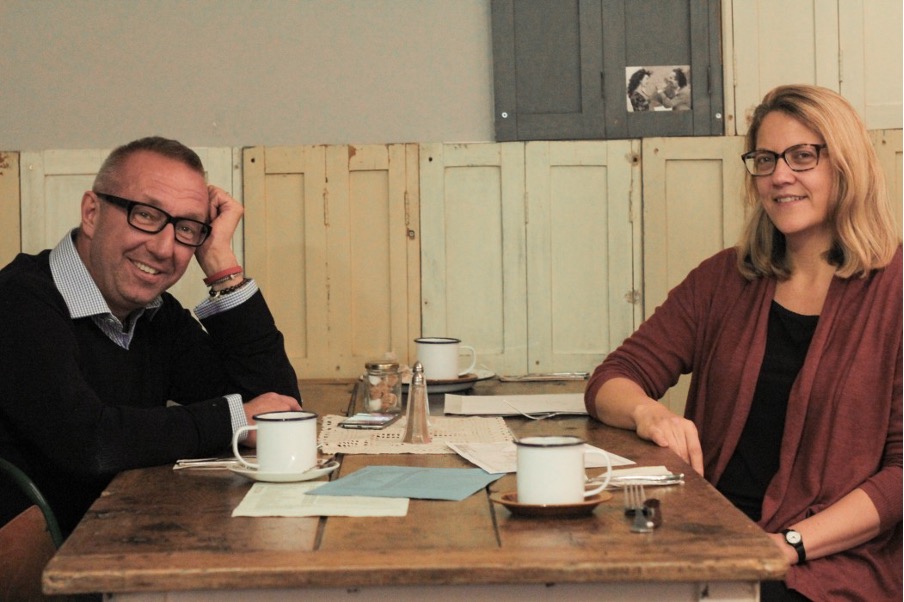 Your visit to Hastings will likely see you enjoying a stroll around the Old Town's numerous cafes, pubs and bric-a-brac shops, admiring Burton architecture in St. Leonards, taking in an exhibition at the Jerwood, Baker Mamanova or Observer Building gallery or treating yourself to dinner in one of the numerous fantastic eateries. You may also find yourself in The America Ground enjoying a drink at The Printworks or Borough Wines, Beers and Books (their first non-London store) or catching a film at the stylish Kino-Teatr on Norman Road. Hastings is alive with creativity – and with so much art and culture on offer, combined with its accelerating popularity, it is often referred to as Shoreditch on Sea.
Why Hastings is not Shoreditch on Sea.
However, if you speak to the majority of Hastings residents, they'll quickly explain to you why Hastings is not Shoreditch on Sea, and doesn't want to be, thank you very much…
There is an 'essence of Hastings', an energy which cannot be replicated, it's not borrowed either, it's unique. Hastings puts on shows where its residents are the stars (see Jack in the Green and Pirate Day) and if you're going to live here, you'll need to love its quirks and you're going to need at least onefancy dress costume.
Scratch a little deeper than the pleasant cobbles of George Street and you'll see that Hastings is not all pirates and pop-ups; one area of Hastings ranks at #89 out of 32, 844 on the Index of Multiple Deprivation and is the 11th worst in England for deprivation affecting children. Rents are increasing in the town (with profits not often reinvested locally) and local people are being forced out of areas such as White Rock, which puts the town's diversity and identity at risk. With popularity comes gentrification, something that many see as inherently bad – but there are ways to improve a town without pushing people out.
We spoke to two people in Hastings who know plenty about urban regeneration and gentrification; having worked in and witnessed the transformation of areas such as Deptford, Hackney, Islington, Camberwell and Shoreditch itself. We asked them what makes Hastings different and what the town needs in order to thrive whilst retaining its identity.
Jess Steele OBE runs Jericho Road Solutions, co-owns Rock House and is best known locally for her role in saving Hastings Pier (re-opening this Spring) from its former delinquent owner, Ravenclaw.
Jeff Kirby is an experienced real estate developer and founder of Hastings-based conscious enterprise group Flint, whose first project in the town is the redevelopment of The Observer Building and the formation of Community Interest Company Allan's Army.
GH – Thank you both for talking to us today, please tell us a bit more about yourselves.
JS – I've lived in Hastings for twelve years; originally commuting back and forth to work in London and not really getting involved here, but then I heard the pier was being closed and decided it needed saving – so I spent 9 years working voluntarily on the saving of Hastings Pier, taking it through the campaign and fundraising phase. We raised £14,000,000 and sorted out the ownership, people thought it was impossible. I was really lucky as I was working with Locality at the time, who help people in local communities to set up community businesses that make money to subsidise their social aims.
I set up my company when I left Locality in 2013 and now I work all over the country helping community groups to achieve impossible things and rescue the building they care about. I act as a coach for these organisations. I particularly spend time on groups who are tackling delinquent ownership, such as with the pier.
JK – I'm a real estate developer and have been in Hastings for twelve months, in comparison to Jess' twelve years!
I came back to the UK after being away in Eastern Europe and Russia. I was invited to work on The Observer Building and realised there was a tremendous opportunity to do something amazing here, so I decided to set my business up here and work on a longer term strategy.
GH – Tell us a bit more about your work in Hastings so far.
JS – I was the Treasurer of the White Rock Trust during my work with the pier and once the pier was solved, we had to decide if this was 'job done' or if there was more to do. We decided we had to make the neighbourhood ready for the pier and make sure that it benefitted from the 325,000 new visitors a year that it will bring. That involves positive projects to improve the area and make sure people will come through the neighbourhood on their way to and from the pier. The most obvious remaining challenge was the old Observer Building (30 years derelict) and what was then a severely run down Rothermere House (now Rock House) on Cambridge Road – which both backed on to a dirty and unfriendly-looking alleyway.
We took a temporary lease on the ground floor of Rothermere House and soon after, were offered to purchase the building, but, the agent said "if you want it, you have to complete in 6 weeks"! There is no way you can move that fast via a community purchase with grants, so I put my own money up (borrowed from my mum!) and Jericho Road bought the building with Meanwhile Space who already had a grant they could bring to the table. We immediately granted some shares to White Rock Trust and now each partner has equal shares in Rock House. We have turned it into a mixed-use building with six flats, five floors of commercial space and a large ground floor community space. All the spaces are rent-capped because we know that the rents in the area are going to change massively in the future and we don't want to lose the diversity and eccentricity that depends on affordable places to live. So now we are also developing a Community Land Trust to buy more buildings and cap the rents so there will always some affordable living and working space in the White Rock and America Ground area.
JK – My background is in large urban regeneration projects – to capitalise on dislocation in the market. This way of thinking has lead me to a deeper involvement in the social, cultural and environmental aspects of regeneration. Flint Group has been set up to challenge an outdated capitalist model and an outdated philanthropical model. We're trying to pilot a method by where you create a for-profit business and use the social contributions as a 'value add' as opposed to a cost. Fundamentally it's real estate but our objective is to create a 'nuclear bomb of goodness.'
The Observer Building is our first project in Hastings. Over a year ago, one of my investors and I drove from London into Hastings and saw O.B; a monolith – gateway to the town, busted windows and boarded up with out of date auction signs on. It reminded me of the 'broken window' theory: if a building has a broken window, the other windows will likely get broken more quickly, and that will lead to the further damage and deterioration to the building and surrounding areas. The Observer Building has been Hastings' broken window for 30 years – we are trying to be the one to fix that broken window.
"A dead pier in a seaside town is like flying a flag saying 'we're closed'."
JS – It's really good that you see it like that, because that's how we saw the Pier too. A dead pier in a seaside town is like flying a flag saying 'we're closed'.
JK – Exactly! We want O.B to be a symbol of change – to fly a flag of this urban economic, cultural and social regeneration. We're proposing 230 student rooms which will bring a huge peripheral spend to the town. Over 200 permanent jobs through construction and running of the building and the hope is that 35% of the students will stay here and build their families here. Bright, ambitious enthusiastic people staying here because they like it.
I sensed a negative energy in the building and the aim was to cleanse that energy, clean the building, make it safe and give it back to the community. I feel with the help of the Flint team, Allan's Army and Dublin + Holland, this has been achieved. OB is now the cultural centre of the this part of town and is the number one spot for parents and tots as well as being the coolest new art gallery on the South Coast. It wasn't how I imagined the project turning out but what it has turned into is even better.
GH – So what about the comparison of Hastings to London, more specifically Shoreditch?
JK – People visiting always say 'oh, it's like Amsterdam or like Brighton 20 years ago, or Shoreditch or Berlin' but no one can put their finger on exactly what it's like, because it's Hastings! Hastings is not an imitation Shoreditch, it's trying to articulate a new identity and it's happening.
JS – It's like Brighton being nicknamed 'Islington on Sea' and I've heard 'Deptford by Sea' for Hastings, too. We should stop making these comparisons, not least because each area is complicated in its own right.
JK – You know when estate agents name regenerated parts of London things like 'The Hackney Triangle' or 'Boho' or other sh*t like that. Well, it seems to me that Hastings has a much deeper meaning than you can convey on an estate agents' description. There's a deeper sense of caring here…the word 'community' gets thrown around a lot but there is something special going on in Hastings, more than social enterprise. I think Hastings is the birthplace of a new way of thinking in the UK for the next 20 years – we're at the cusp of something more exciting than a wave in real estate prices – people are choosing an alternative lifestyle with a deeper caring about community and understanding of the planet, and each other.
JS – Alternative thinking and lifestyle require affordable housing, which is why what we're doing at Rock House and in the Community Land Trust is so important. In the gentrification theory you either focus on the gentrifiers or the movement of capital – but the ones who get missed are the ones who are already here and the people who might have come if only it had stayed affordable. This 'essence of Hastings' could be ruined very quickly by the movement of capital which flows like floodwater – soullessly seeking out gaps – and just as damaging. The increase in stamp duty on buy to let from April may help to calm the market, but the price differentials are so significant it is hard to see how we can protect it. Only by moving property into community freehold can we cap rents long term, put profit back into the community, and combat the real danger behind these silly terms like 'Shoreditchification'.
JK – I had a local artist come to me the other day and say that the rental market is dominated by magnolia boxes and asked me for an alternative. I am looking at another work/living space solution for these kinds of people in the town, not dissimilar to what Rock House is doing. There have been some serious mistakes made, redevelopment-wise, the 'Grade A' office block thing did not work.
JS – Where Jeff and I are similar is that we're not here to wipe out what Hastings has – we want to regenerate using what Hastings has – to help it to self-renovate. The previous focus on Grade A office buildings, while ignoring the genuine legacy buildings like the Pier, the White Rock Baths and the Observer Building was a serious mistake. Hastings as a town seemed to have a self esteem problem and I like to think that the saving of the pier was the first step in rebuilding that self esteem. It took community action to make that change – now all the players are behind it, so maybe we have a real chance.
GH – So, regeneration is the key word here, regeneration as an alternative to gentrification?
JK – Definitely. I read this month that 67% of children in Hastings are technically living in poverty. We have 8% HMOs instead of the national average of 2%. There is a huge heroin addiction and homelessness problem in the area. I don't think it's right to outsource work to other parts of the country/other countries that can be done by this huge resource of people who want to be useful and need an opportunity to work. I was speaking to someone yesterday about setting up an order fulfilment centre in Hastings which would work as a college, providing skills and educational employment, giving qualifications and a step up to better opportunities. The DFL money is not the holy grail, we're chasing the wrong thing. It makes no structural changes to the town, we need to capitalise on the local resource in order to regenerate Hastings.
"It's about measuring profit and wealth in terms of social, economic and environmental benefits"
It's about measuring profit and wealth in terms of social, economic and environmental benefits; putting a person into employment and off benefit dependency increases self respect and allows them to generate personal wealth and dignity. I set up Allan's Army for this very reason. Between them they had:
44.5 years of prison time
156 years of drug addiction
£2,000,000 direct cost to the state for prison time and benefits, not including peripheral costs.
I put them into work 6-8 months ago and since then:
4 have gone into rehab
1 has volunteered for a psych assessment
1 has 'graduated' from Allan's Army and will be enquiring about other roles at Flint Group later this year
As far as we know, we have successfully managed to get each member of Allan's Army out of benefit dependency.
One of Allan's guys said to me the other day "I used to wake up desperately looking for a fix but now I wake up and I'm looking forward to a coffee, a hot breakfast and to get to work"
We don't need DFLs, they are more welcome to join us but we need to regenerate – to put these guys and others like them who are looking for work to good use and regenerate the town.
JS – One of Jericho Road's projects is to support a scheme called the Organisation Workshop in Ore Valley. The scheme was piloted in Luton, working with 40-50 long term unemployed people to redevelop a neighbourhood via community self-build. The Luton OW led to half of the people setting up a cooperative enterprise and they are coming off benefits. This reflects the same experiences as Jeff has seen with Allan's Army; not only does part of the town get redeveloped, but there is an individual transformation and a sense of family and network, which a lot of us take for granted.
Most of us have friends of friends who can point us in the direction of work – but if you are one of these vulnerable people, you get isolated. It's not just lonely and miserable – it's actually bad for you.
JK – Addiction theory is that whereas in the past, addicts have been isolated as punishment – it's actually forming bonds that helps them recover. Isolating or 'disconnecting' does not work. Once bonds are made, the need for self-anaesthesia is lessened. Like Allan's Army – they become a family, the family has a name, they start to self-regulate as a group, be good to each other – it becomes a glimmer of hope. It has changed their lives.
JS – How are you able to keep on paying Allan's Army?
JK – They are paid through Flint Group projects but the idea is to create more local work for them, and others like them.
GH – What should newcomers bring to the town?
"…bring everything with you – your passion, your interest, your expertise, your dogs and your kids. Don't stick your money down here in a second home or take money away through by-to-let rentals and not actually 'be' here."
JS – The regeneration process should be focussed on small businesses. Moving the HQ of a large corporate down to the seaside is very unlikely indeed, but small businesses that work around the great quality of life do well here. We need Hastings to be the breeding ground for small businesses – bring everything with you – your passion, your interest, your expertise, your dogs and your kids. Don't stick your money down here in a second home or take money away through buy-to-let rentals and not actually 'be' here.
JK – look at Dyke and Dean – they have their shop here but they sell so much stuff online internationally and all the money comes back into Hastings – that works well here – stuff made in Hastings and shipped across the world. We need more graphic designers, more architects – work that can be made here and sent online
You should also bring a readiness to get involved.
I came here with the intention of having a positive impact on this place, but what I didn't expect was for Hastings to have such a positive effect on me; if you turn up here wanting to help people, you will feel the rewards. I don't mean like charity – I mean personal improvement, this town is for that.
JS – In my opinion, Hastings has the best balance of quality of life versus cost of living in the whole country. We have the sea, 600 acres of country park and low house prices. That's why we're so keen to prevent it from changing into an expensive seaside town and losing the 'essence of Hastings'. The thing with Hastings is we have such eccentricity – which is even better than diversity. It's not Shoreditch or Brighton, no one is trying to be different, they just are different. If you're a 'hipster' or trying too hard, people here will find that odd. I think some people don't get it and find it a bit unnerving to start off with – just how free people are here to be themselves. Everyone is different here, so you can be who you want (although maybe everyone here is a little bit pirate).
Thanks to Rustico for the interview space.
The Grand Opening of Rock House takes place on 4th March 2016.
View the plans for The Observer Building here.
Co-founder of Get Hastings and Director of LittleGold Online – a digital marketing agency based in Hastings.